Aug 08, 2018 - The Benefits of Investing in High-Quality Dead End Distribution Utility Poles
Dead end distribution poles play an integral role in community infrastructure and are a ubiquitous feature in our cities and towns. They perform the tricky job of supporting transmission lines to facilitate the transfer of electricity at very high voltages.
Nova Pole, a dead end distribution pole manufacturer, is dedicated to creating high-grade transmission, distribution and substation structures with several configurations to match your specifications right down to the last millimetre. Considering the vast list of prerequisite features and functionalities that you have to consider prior to putting down your money, it is vital that you're choosing a product that not only delivers an outstanding performance but also allows for cost-effective power distribution.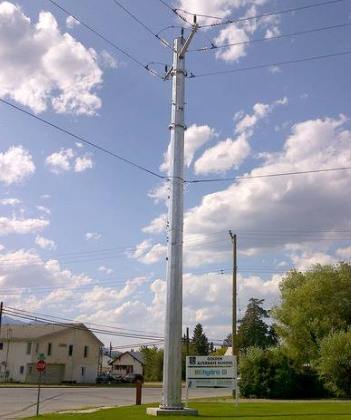 But how can you be sure that you're investing in the right product? Based on the desired performance output, here are a few benefits that will help make your decision a little easier.
The Crucial Purpose of High-Grade Dead End Distribution Poles
To deliver electricity to our homes and offices, these self-supporting structures have to be capable of assisting with low to high voltage transformation and vice versa. Not only that, they should also be immune to the strenuous conditions and structural demands that are associated with transmission line projects. If you're in the market for dead-end poles, finding those that are constructed with the greatest precision and accuracy to withstand the elements and optimally facilitate electrical transmissions is your top priority.
Versatile Designs and Structures
When it comes to the basic design and structure of the product, you're absolutely spoilt for choice! Keeping in mind that you have ample structures to choose from, your chances of arriving at a decision that will best complement the final goal you're looking to service are that much higher. We strive to deliver design, engineering and fabrication excellence through Y-frames, A-frames, H-frames and monopoles. It is also important to assess whether you require the anchor bolt foundation-mounted or direct-embedded option for multi- or single- circuit applications. Structure heights go up to 61 meters with crossarms that could range up to 100 feet and are additionally customizable with various base diameters of up to 2.35 meters. The overall configurations and structure of your selection go a long way to inform the durability and sturdiness of the product - these are features that are extremely essential, considering these poles are expected to withstand all weathers, not to mention their daily wear and tear. Because the aesthetic appeal is equally important, distribution poles shouldn't merely join the ever-increasing street clutter. To defend against this outcome, these distribution poles are designed to match the local landscape and complement the concrete structures that immediately surround them.
Resilient and Environment-Friendly Materials
As with most structures that play a role in urban development, distribution poles are constructed with materials depending on their precise application, terrain, location and intended lifecycle. Accordingly, tubular steel, lattice and concrete are the three primary go-to options when it comes to the base material for the utility poles. The approximate lifespan of a high-grade pole is 80 years. These poles are not only known for their supreme durability to withstand the machinations of time, but also the heavy physical stress that comes with supporting high voltage transmission lines. Tubular steel poles pave the way for greater ease in installation and manufacturing. They are most typically assembled in the factory to ease the burden associated with the on-the-spot assembly that causes roadblocks and unnecessary obstacles for pedestrians.
On the other hand, lattice poles are put together on location and boast of aluminum and galvanized steel to be as lightweight as possible. Concrete poles are a very solid option given their core strength and resistance to the weather. These are a common mainstay especially in Canada and the United States.
Minimal Ongoing Maintenance Costs
Perhaps one of the biggest perks of a high-quality distribution utility pole is that it earns its keep and isn't a strain on your finances. Because the maintenance associated with these utility poles is minimal, you can save tremendously on labour and replacement costs. Their durability ensures that they do not twist, bow, bend or shrink no matter what the weather. The hardware maintains its integrity throughout and keeps the distribution network as functional as ever. These distribution poles perform in the harshest climes and that includes locations that are prone to high winds. They do not easily succumb to collisions - such as if a car were to impact the pole - and will perform unhindered. To top it off, at the end of its usable cycle, the pole can be easily dismantled and recycled so that it does not end up in a landfill and negatively impact the environment.
Your search for a high-quality high-performance dead end distribution pole ends right now!
Let us help you make a decision that you won't regret. Utility poles have plenty of features and functions and finding one that best matches your needs can be tricky. Call us at 1-866-874-8889 to receive expert guidance on what works best for you!