May 10, 2019 - Find Out How Specialty Poles Will Benefit Your Next Project!
While traffic light poles and street lighting poles are necessary structures that support the infrastructure and come with a variety of benefits that are mostly faced with a blind eye by the population, there are other specialty poles manufactured by light pole manufacturers including communication poles, art poles, transit poles, sports lighting poles, solar poles, wind poles, hinged poles and high mast poles etc. that have taken technological advancement to new heights!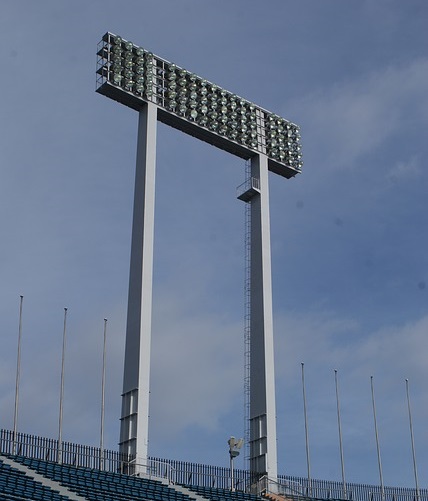 As we walk or drive past the busy city streets using our smart devices, listening to the radio in the car, or watching our favorite teams play in the sports arena, or traveling to new places - these infrastructural edifices play a major role in enabling all of this.
Nonetheless, these structures are meant to be strong, sturdy and add to the aesthetic beauty of the streets. Besides this, specialty poles come with a plethora of advantages that can benefit your next project.
Aid communication
Tubular steel based communication poles with radio or cellular antennas enable connectivity across all networks in the country. Especially in Canada - where lightning speed connectivity is a priority for cellular networks and regional radio centers, these poles are designed with specifications best suited to support wireless communication over large distances and also support various other applications around the country.
Provide lighting for large outdoors
High mast poles help illuminate large outdoor areas including airports, prison and railway yards, airports, ports. parking lots, industrial areas wherein quality and reliability are a prime consideration. High mast poles are custom-engineered to support the security and safety of such high activity areas that need constant lighting at all times.
Enhance the curb appeal
Specialty poles like art based poles help in spreading art all over the city and enhance the aesthetic feel of the surroundings. Such poles are a treat to the eye and support the touristy ways and attract more visitors. Unique art installations with exquisite designs and finish with eye-catching colors complement the vibe of the city landscape and also reflect the culture and vision of the place. At Nova Pole, we manufacture a wide range of attractive and customizable designs tailored to your design views and specifications.
Support performance on the field
Though special poles designed for sports lighting are on the costlier side, however, they are not only performance savvy but also help support the play whether it is basketball, baseball or any other high-intensity sport or recreational activity wherein the focus is entirely on exceptional lighting for players as well as the fans alike. These poles are now designed keeping two key points on the forefront:
Strength that matches the wind zones as well as the lighting load capacity

Undeterred performance that lasts longer
Enable smooth commute
Specialty transit poles are designed to enable safe and smooth transit on a daily basis in compliance with the local infrastructural regulations. Catenary and LRT poles are engineered to support the light rail transit systems and transit trolley poles support electrical trolley transportation systems like streetcars, tramways, buses, etc. These are essential for clear transit communication and operating signal transmission that allows smooth commute.
Support environment friendliness
Utilization of solar and wind energy in modern day structures is not only cost effective but also help promote eco-friendliness by saving energy. Solar panels installed on street poles aids public safety in areas where power is not accessible and eliminates high electricity consumption altogether. These tubular steel poles are certified for wind loading standards and engineered for battery charging as well as protection of the rear panels from theft or damage.
Ensure pedestrian safety
With different sizes and specifications, they open a multitude of options including several hinged poles that are crash friendly and are safe for pedestrians. These are designed to adhere to the federal safety standards to make sure no pedestrian or vehicle is harmed in any circumstance.
These poles resonate well for larger surroundings, sports arenas, tourist places, telecommunication as well as transit systems. Street lighting poles designed for specificity and aligned to these new technological needs require expert manufacturing that caters to a variety of applications without compromising the durability of the material as well as the design architecture. Keeping that in mind, you should choose a specialty pole that suits your project requirements and conforms with government laid standards for safety and manufacturing.
Empower your project with poles that stay strong and last long!
At Nova Pole, our team of experts put your choices to the pedestal and engineer poles for strength, durability, longevity, and safety with a variety of poles serving different applications.
Call us at 1-866-874-8889 to understand what will work better for your project!