Jun 11, 2020 - Electrical Poles Company - Overhead Sign Structures: How to Plan For Your Next Project
Sign structures serve an important purpose in the planning of roads and infrastructures They are overhead structures that transmit important information for drivers on the regular road and highways. They are a highly useful resource that you have to take into account for your next project.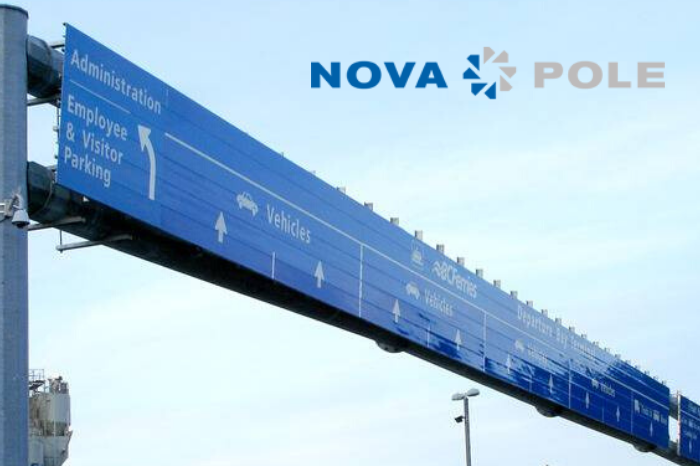 At Novapole, we are a reliable team of overhead sign structure manufactuers who put great work and detail into each and every one of our products. We follow strict safety guideline protocols that keeps everyone safe while working towards making Canadian cities better.
While we are an electrical poles company at heart, overhead sign structures are another specialty we have our hands in. Call us at 1-800-874-8889 to learn more now. We'll go over the importance and planning stage for these structures in your next project and why we're the best choice to help.
Why Sign Structures Matter
You see overhead sign structures on the highways all the time. They are designed to support many types of traffic, road, and geographical commands in a reliable manner. The most common use for them are directions for drivers on highways, indicating where to turn and go.
Sign structures help control congested traffic flow on highways and ensure drivers arrive at their destination in a quick, safe manner. The structure's tubular steel poles are highly durable and designed to support various sign structures of shapes and sizes.
Having them installed not only adds safety for your drivers on the road, but also improves functionality of your highways. They are a useful resource for urban planners to take advantage of for their next project.
Types of Sign Structures
We at Novapole offer a variety of overhead sign structures with different shapes, sizes, and colours. Each sign structure serves a different purpose and are often placed at different spots on the highway road.
For example, our Single Arm Cantilevers usually indicate where you can exit overhead and are placed near the side of the road. A Double Arm Sign Cantilever can display twice the information needed for drivers to know where to go and utilize a good amount of space for arrows and images.
Single Arm and Double Arm Sign Bridges serve a similar function and are commonly placed in the middle of the road for drivers to see. We also have DMS Sign Structures available, which use digital lettering to convey information for drivers to consider such as traffic status or road hazards. Other products we have available are cantilevers with lights, toll booth ferries, and monotube signs among many others.
All our frame structures are made with highly durable and exceptional metal components. You can be assured that our overhead sign structures have an exceptional quality to them and will be a crucial aspect of your next project.
How Nova Pole Can Help You
Our team at Novapole are exceptional crafters of tubular steel and we have a proven track record of delivering products that stand the test of time. Since we're a Canadian company, we have worked with many local companies and planning committees to make sure your infrastructures are sound and safe.
Moreover, our products are not only of high quality, but cost effective as well. We closely follow safety guidelines as directed by several different municipalities and jurisdictions. That's why you can count on us if you need to install any overhead sign structures for your roads.

If you're interested in our products and services and want to learn more, feel free to call us at 1-866-874-8889. You can also leave us any of your thoughts, questions, and concerns on our contact form if you wish.