Jul 20, 2020 - Lighting Poles: How to Start Planning For Your Next Project | Hinged Light Pole Manufacturers, Canada
Lighting poles are an important resource for public infrastructures like roads and highways. They come in a variety of shapes and sizes and each of them serve a different purpose. There are many types of lighting poles that we should go over and Nova Pole is here to give you all the information you need.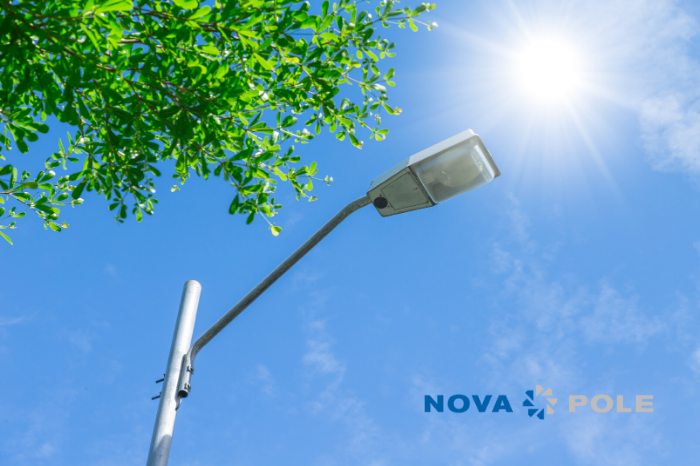 We at Nova Pole specialize in the sale of lighting poles. We're a hinged light pole manufacturer and have been helping with many infrastructure projects. We provide tubular steel poles and cost-effective lighting poles that are of the highest quality.
To learn more about our products, call us at 1-866-874-8889. We'll cover the types of lighting poles available in our stock, their accompanying accessories, and why Novapole is the right manufacturer for your project.
Types of Lighting Poles
Lighting poles come in three different functions: decorative, traffic, and specialty poles. Each of these serve a different function and can be used for a variety of purposes.
Decorative lighting poles help distinguish themselves from the more plain, inconspicuous poles out there. These lighting poles have more intricate designs to them and can blend into the surrounding while also maintaining a unique image. For these poles, decorative bases and arms form the foundation of the poles and can be topped off with any of our accessories on the top.
Traffic lighting poles are your standard poles that compliment road signs and overhead traffic lights. These can be placed at intersections or pedestrian walkways and can come equipped with cameras on the top, radars, or speed signs. Traffic lighting poles can come with double arm extensions and can do more than support lighting. They can be installed to serve several different functions at once and are a useful asset for any public space.
Specialty lighting poles serve even more purposes as their structures are fairly flexible and unique. These types of poles can be used to support communication towers, high mast lighting, art installations, transit, and solar panels among others. These kinds of lighting poles are important to the high technology we use everyday. These poles can also be hinged and used for large sporting events.
Lighting Pole Accessories
Accessories are a good add-on to have if you want to make your lighting pole look nice and unique. These accessories can support large lighting poles to do their jobs properly.
Some common accessories we have in inventory include aluminum arms, auger bases, and junction boxes. These can be placed on the base of the pole to support its overall foundation. Other interesting accessories that you can add to your lighting pole include bullhorns, basket and banner arms, safety bases, and tenor adaptors among others.
Our experienced and knowledgeable staff will help you pick the right accessories for your project and go over each of their functions.
Turn to a Trusted Lighting Pole Manufacturer in Canada
All our tubular steel products at Nova Pole are compliant with local safety codes and regulations. It is our top priority in taking care of all our products' safety, durability, and efficiency. We focus on delivering the top quality engineered poles to our clients in a quick, seamless manner.
Our lighting poles have brightened public streets and supported signs along the highways you use everyday. You can be assured with the quality of our products and the utmost care we have in manufacturing them. We hope we can be of great service for your next big project.
Here's How to Reach Us
If you'd like to learn more about Nova Pole and the products we offer, please call us at 1-866-874-8889 or use our reliable contact form to send us your detailed thoughts, questions, or concerns.