Aug 20, 2020 - Commercial Lighting Poles: Find a Super Affordable and High-Quality Product for Your Application Today! | Lighting Poles, Canada
Finding the right lighting for your area can be difficult, the best would be to find something powerful but not blinding, and also long-lasting and cost-effective. Each space needs its own kind of lighting and those needs can easily change with what the area is used for as well.
Nova Pole can help you find your perfect fit though, providing various pole types of varying lengths from lighting poles, to flood light poles for spaces holding events and even electrical poles to fill your more technical needs.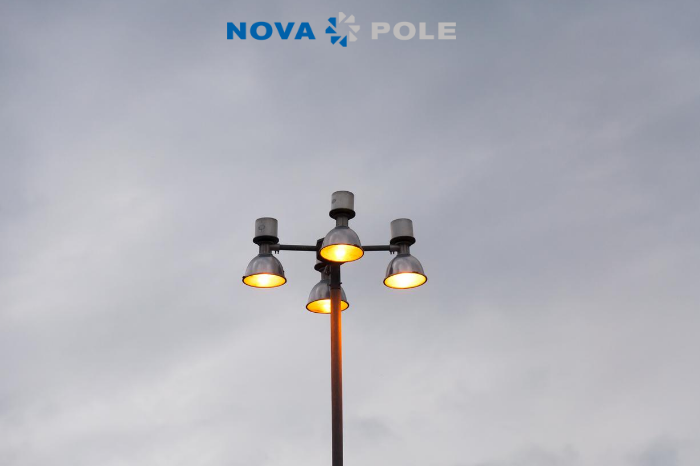 Why choosing the right lighting pole matters
We all know there are a variety of different lighting poles to choose from. The height affects not only how it fits in your space but also the distribution of the light, specific areas like highways are best to have higher mounted streetlights to cater to drivers in driving at higher speeds as opposed to a city street.
Lighting consistency is important too, how far apart lights are placed to maximize their lighting and leave as few dark spots as possible. Dark spots aren't just an issue with the spacing of the lights, things like trees, foliage, street signs, building features or extensions, or many other things whether permanent or temporary can obstruct the light.
Avoiding these dark spots make everyone feel more safe and secure; whether its business owners, security on shift, residents, pedestrians, drivers, or more. Finding the balance is important, the right amount can feel secure but too much can be blinding and make people uncomfortable.
A breakdown on the different lighting pole products
Now that you know what you're looking for depending on your space and its usage, finding the one that fits your needs is next. Each light has their own strengths and there are additional accessories or amendments that can be made to perfectly match the environment or use you need.
Steel or aluminum square light pools are a great fit for parking lots, roads, and open areas that especially need lighting during the night. These pole types are quiet affordable and secure, with two drill holes around the base, each one approximately 180 degrees from the other. These light poles are mechanically cleaned, and coated with a top coat to protect the material and keep it looking sleek longer. Nova Pole carries both steel and aluminum in 4" & 5" to fit your needs.
Straight round Stell variations also exist with round steel and aluminum varieties in 4" & 5" as well. Meanwhile, the curved Davit pole designs are perfect for Highway Signs, Luminaires, and Traffic Signals.
Decorative additions are popular for many people to fit their lighting with the environment and complement your building while still providing a vital service. These can range from decorative bases, arms, accessories. Additions are not only aesthetic though, many are also out there to serve a purpose, things ranging from bird deterrents, added security to the structure of the pole, adding the ability to rotate, hold items and more.
Bring your lighting to the next level with Nova Pole: Lighting Poles, Flood Light Poles, Electrical Poles
Matching you with the perfect pole for your location, building, needs, and usage is our specialty. Our team works along with the whole production process from design to manufacturing to make sure you are getting the quality you deserve. Lighting can only be as effective as the equipment makes possible, so to get your money's worth of lighting the best equipment, whether it be the pole, the base, or the accessories is a must to illuminate your space right.
If you'd like to learn more about Nova Pole and the products we offer, please call us at 1-866-874-8889 or use our reliable contact form to send us your detailed thoughts, questions, or concerns.