Sep 21, 2020 - What to Look for When Choosing an Infrastructure Pole Manufacturer | Overhead Sign Structures Manufacturers
When looking for a pole manufacturer for your next project you should only go for the best. Poles can be integral, no matter what type of pole or purpose they serve and having any mistake or oversight can end up costing you much more in the long run in both time and money.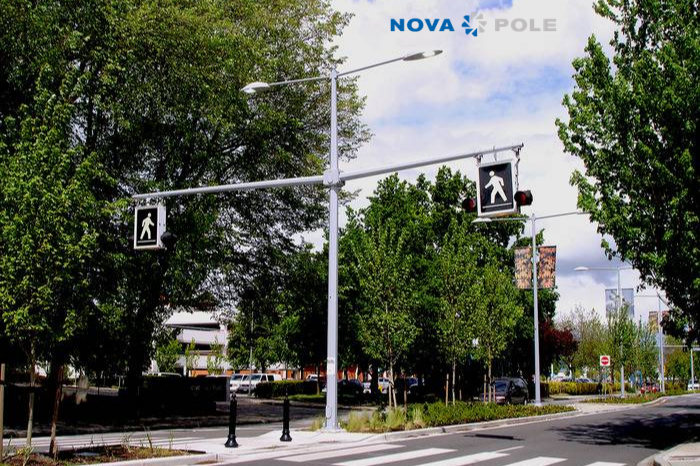 Nova Pole works as overhead sign structures manufacturers, providing not only top quality poles but a variety and range of poles and related projects to fit your project perfectly. We are a trusted supplier of lighting poles, street sign structures, utility and transmission poles, floodlight poles, and much more!
Find a Reliable Infrastructure Poles Manufacturer
Finding a reliable manufacturer with a good reputation is already half the battle right there. A business with a reputation for sustainable and long-lasting products can put your mind at ease that you will get the best of the best well worth the price. With poles its necessary that they last at least 15-30 years because of how integral they can be to lighting, driving, signage, and more. Having to go back to a past project to redo an oversight or mistake is not only time consuming, and frustrating but also adds up to be more expensive than getting it right the first time.
One other benefit of trusted manufacturers is you can get a range of solutions under one roof. Being able to shop in bulk significantly reduces your costs and gives you access to products that are complementary to each other.
Check For Any Signs of Recognition and Certification
When searching for a manufacturer a fast way to see how viable of an option they are is their standing within the community. Things like awards and certificates can easily show the companies effectiveness and acknowledgment within the industry. Things such as the Lieutenant Governor's Award for Engineering Excellence, and recognition from the Canadian Welding Bureau (CWB), the Canadian Standards Association (CSA), and more are a great thing to look out for.
Being recognized with the prestigious Lieutenant Governor's Award for Engineering Excellence, Nova Pole worked as a partner in the largest transportation construction project in BC's history so far; the $1.6 Billion-Port Mann/Hwy #1 Improvement Project. Also, Nova Pole is certified to the ISO 9001:2008 Quality Management Systems Standards, and to the Canadian Welding Bureau (CWB), matching their high standards of quality. In addition, Nova Pole's range of products is certified to the Canadian Standards Association (CSA).
Versatile Infrastructure Pole Designs
Finding a variety of poles to fit any possible need you have from tubular steel and aluminum poles, communication poles to street swing and light poles are great. Tubular steel and aluminum poles can give a great range in usage from holding signages, are available as single-arm cantilevers, supporting decorative lights, tollbooth ferries, DMS signages and more.
Carrying a wide range of high-quality and cost-effective poles that meet any of the requirements you have for your specific application while still adhering to the high standards of they could serve such as the Ministry of Transportation and Infrastructure.
Want the Very Best in Poles for Your Project?
As one of Canada's leading producers of infrastructure poles, our team at Nova Pole is dedicated to providing the best of the best. We understand safety, and service; aiming to live up to the standards of such experts like the Canadian Standards Association (CSA) and the Canadian Welding Bureau (CWB). Give your project the work it deserves and yourself peace of mind with top quality poles from Nova Pole today!
If you'd like to learn more about Nova Pole and the products we offer, please call us at 1-866-874-8889 or use our reliable contact form to send us your detailed thoughts, questions, or concerns.