Nov 17, 2020 - Electrical Poles & Lighting Poles: Applications, Types, Benefits | Infrastructure Poles Manufacturer
Nova Pole International Inc. is a Canadian company that has been the most knowledgeable and cost-effective company while remaining a mass producer of infrastructure poles. We only use high-quality parts to produce tubular steel poles used for highways, street lighting, traffic signage, cellular towers and telecommunications systems.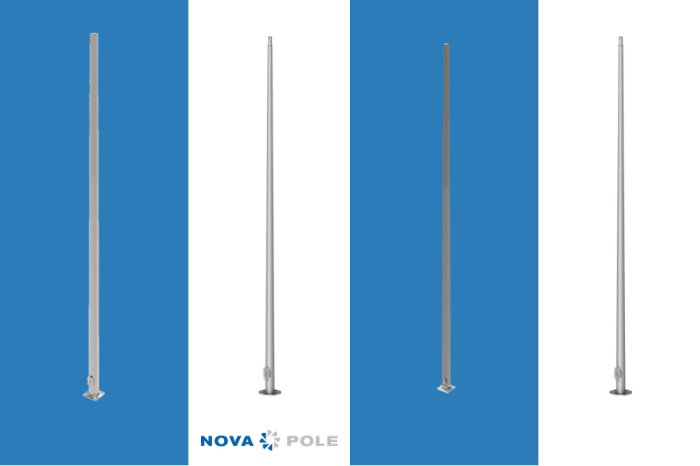 Nova Pole has over 34 years of experience in infrastructure poles and structures, specializing in lighting poles, flood light poles and electrical poles while using industry-grade aluminum, serving clients all across Canada.
Aluminum Products: High-Quality, Extremely Durable
Aluminum has incredible engineering benefits as it is corrosion-resistant, it shares a longer lifespan than steel and fibreglass, it's fully recyclable and is lightweight so that cost and installation is simpler. The longevity and durability of aluminum outweigh all other pole materials, and Nova Pole recognizes its benefits and expertly chooses industry-grade aluminum in all lighting pole manufacturing.
Lighting Poles
Manufactured with industry-grade tubular steel or aluminum, lighting poles are efficient and bright in illuminating streets and roads. Usually, in the form of street lights, lamp posts or street lamps, Nova Pole specializes in the proper construction of all lighting poles categories: Davit, tapered, round straight and square straight. Lighting poles combine the comfort of a beautiful lit aesthetic with extremely robust infrastructure built to withstand harsh Canadian winters; whether lighting poles are faced with hail, snow storms or forceful sunlight, the materials will not deteriorate. Additionally, they are crash-friendly meaning that in case of a vehicle injury, the aluminum material reduces personal injury.
Electrical Poles
Electrical poles derive their name from the 'electrical charge' that is caused by the electrical current that flows through the structure to create light. Nova Pole specializes in H-Frame and Y-Frame for direct-embedded applications with strong galvanized or weathering steel available.
The extensive like of pre-engineered transmission pole designs from 30' to 120' in length are equipped with single or multi-circuit configurations, and any questions can always be answered by an experienced Nova Pole representative. Electrical poles have a long life, enhanced reliability and its robust design makes them extremely durable. Nova Pole is highly experienced in the manufacturing and distribution of electrical poles including transmission, distribution and substation structures.
Other Types of Poles and Accessories
Flood light poles offer a high-intensity artificial light that brightens large areas such as playing fields, outdoor sports arenas and event areas to enhance visibility in darker spaces. Though a flood light is compared to a spotlight, the flood light provides much more light as the spotlight narrows in with a beam-like radar. Nova Pole also specializes in decorative bases and arms, accessories and specialty decorative poles so that each individual client can experience exactly what they pay for.
Safety First!
All Nova Pole products are certified under the Canadian Standards Association, additionally held at the highest standards of the Canadian Welding Bureau. Our employees are respected, full time engineers to manufacture the highest quality of detailed structural design to keep Canada properly lit and properly installed. Nova Pole ensures a 1 year warranty that will help the client satisfied, with the obligation to replace the product if it is defective.
Flood Light Poles | Electrical Poles | Lighting Poles: Contact a Leading Pole Manufacturer in Canada
Nova Pole is proudly Canadian and confidently manufactures expertly engineered and designed lighting and electrical poles to help illuminate one road, highway or sports event at a time. Through extensive and trusted design, fabrication by leading pole experts and proven safety, Nova Pole can provide the light at the end of your tunnel.
Get High-Quality Lighting and Electrical Poles For Your Next Project, Contact Us At 1-866-874-8889