Jan 04, 2021 - Winter Infrastructure Pole Maintenance & Installation: Tips, Benefits, Process | Highway Sign Structures
Frigid temperatures, precipitation and strong winds can have a direct impact on pole infrastructure. Nova Pole is committed to designing utility and electrical poles that can withstand the harsh Canadian climate without compromising the integrity of the structure.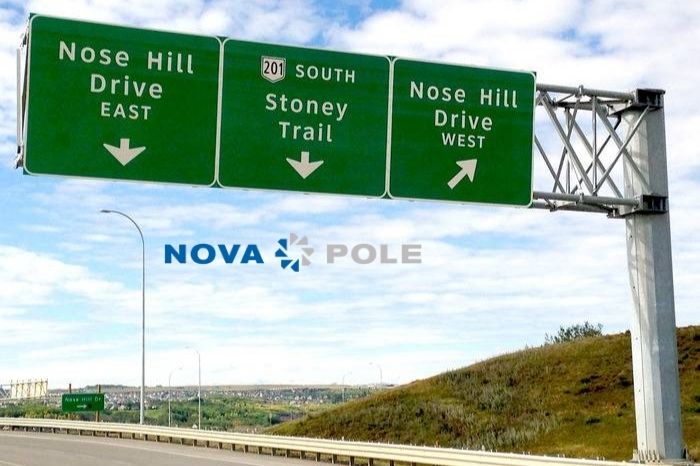 Being proactive in protecting your utility poles will ensure they are safe and properly functioning. A scheduled maintenance check can optimize your pole even when it has to endure destructive forces of nature. Avoid pole replacement that can cost you a fortune and enlist our reliable and professional help.
Consider our following guide to help prevent your utility and electrical poles from succumbing to harsh winter weather.
Benefits of Choosing Durable Poles
Nova Pole is the top electrical pole company in Canada that will provide ultimate poles to light up your area even throughout fluctuating weather conditions.
We manufacture and expertly install the following types of poles and accessories:
Street and Area Lighting: Davit, tapered, round straight and square straight poles.
Decorative: Specialty poles, along with decorative bases, arms and accessories.
Traffic: Intersection, camera, pedestrian, radar sensing vehicle detection and speed warning traffic poles.
Sign Structures: Ferry toll booth double-arm sign bridge, highway sign structure, A-frame, toll gantry sign, monotube and single-arm cantilever.
Utility: Transmission, distribution and substation structures.
Specialty: Communication, high mast, art, transit, sport lighting, hinged and solar & wind poles.
Installing all of our poles using durable tubular steel, we institute all of our structures with unparalleled expertise that can withstand any weather condition. We design, manufacture and market high-grade poles to illuminate streets and highways, service overhead traffic signage and distribute wireless communication towers amongst other services.
Winter Pole Maintenance and Installation
Damage to utility poles due to extreme weather conditions can at times be unavoidable. However, our skilled technicians will ensure that all poles installed will have a sturdy infrastructure that can withstand even the harshest winds.
Utility pole maintenance and repair is imperative to preventing overall costly replacement. Ensuring up-to-date pole maintenance is rooted in expert installation. Taking proactive measures to elongate the life of your poles is grounded in its initial installation.
The weather cannot be changed, but being aware of the factors surrounding your poles can optimize your pole structure. Cutting off any weak, loosely-hanging or diseased branches reduces the likelihood of them interfering with the poles that can cause a power outage.
It is important to notice the quality of your older poles; if a beam is discoloured cracked or bent, it is imperative to call an expert to inspect it. Our skilled utility pole installation engineers can determine if you have to completely remove it or replace it safely.
We understand the importance of installing high-quality infrastructures. Nova Pole provides a thorough asset management system that can ensure utility poles withstand aggressive weather. We provide up-to-date pole inventories and workflow aid in improving response times.
Bad Weather Will Not Affect Your Lighting Needs - Install Solid Utility and Electrical Poles
Nova Pole is certified internationally under the Canadian Welding Bureau. We back up our craftsmanship through over 34 years in the pole business and offer a wide range of infrastructural services.
All of our products are accredited under the Canadian Standards Association, as we employ the services of fully skilled engineers. Whether it is rain, snow, gusts of wind, or ice, Nova Pole will install your requested pole to function properly even when faced with harsh weather conditions.
We cannot stop the winter from happening but we can be properly prepared when the time arises. Get in contact with one of our seasoned experts by clicking here.