May 06, 2021 - Choosing the right floodlight poles for your community | Durable lighting pole manufacturer across Canada
We have travelled leaps and bounds from talking outside under one lightbulb.
State-of-the-art lighting poles and systems have allowed us to improve our surroundings and extend our social gatherings. Among a wide variety of lighting poles, Nova Pole is a manufacturer of floodlight poles that illuminate large areas, open spaces, parking lots and sports fields.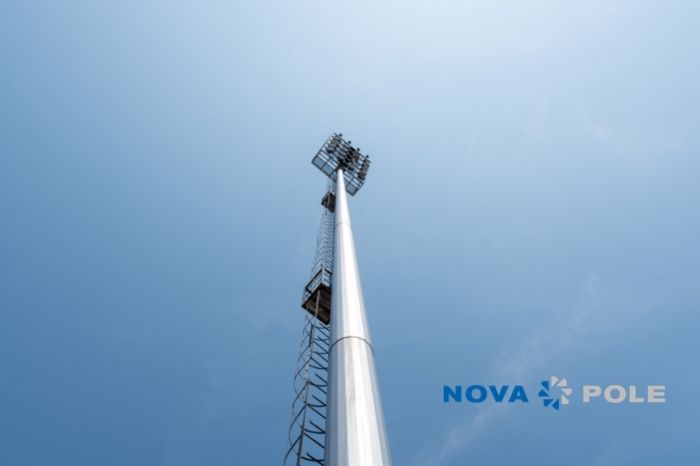 Our team manufactures cost-effective and super-quality lighting infrastructures that can maximize the lighting of any space. Choose top-quality engineered poles made by skilled professionals. What are some advantages of our floodlight poles? They're lightweight, sustainable, and are engineered to withstand the infinite range of weather patterns in Canada.
How do I choose the right floodlight pole?
When you're on the market for floodlight poles, your first priority is to find ones that are made of superior quality and that can benefit the requirements you're needing. Here are some things to keep in mind when choosing the right floodlight pole:
The range of light needed. Determining the distance that the light can cover prevents instances of overpowering light. For example, if you require a floodlight pole that needs to illuminate your farm, it's a good idea to choose one that doesn't disturb your surrounding neighbours. Ensuring that you know the exact distance that needs light can save you a lot of trouble long-term.

Knowing the Ingress Protection (IP) rating. The IP ratings determine how resistant the light is to various weather conditions. Made up of two numbers, the IP ratings show two elements, (1) how much protection the fixture can withstand against solid elements like dust and snow, and (2) how much the fixture infrastructure can withstand against moisture. It's important to consider the IP rating when you choose your flood pole light as you want to invest in a product that will last you for an extended period while still providing you with maximum lighting efficiency.

The width of the area. If your objective is to cover a wide space with a single floodlight, you will need to purchase a flood pole light with a wide detection zone. If your objective is to illuminate a longer and narrower area, your best choice is to opt for a lighting infrastructure that does not have a wide detection zone.
Factors to consider when installing a flood pole lighting system
The pole height. Flood pole lights come in a variety of different sizes and heights. Determining the pole height that is best suited for your intended area can prove to be beneficial and cost-effective.

The wind speed. Commercial light poles are typically installed in outdoor areas and are manufactured to withstand natural weather occurrences that include pouring rain, heavy winds, thunderstorms, hailing and snow. It's essential to consult the local authorities in your community to ensure that the light poles you choose are the correct height for the wind speed. The correct light pole will decrease rapid replacement times and ensure that the infrastructure will function properly.

Saltwater corrosion. On the West Coast specifically, commercial pole lights are targets for corrosion. Our top-grade lighting poles are coated with anti-corrosive layers so that they provide maximum efficiency wherever they're placed.
Choose the best floodlights on the market with our lighting professionals at Nova Pole!
With the growing need for environmental conservation and eco-friendly solutions, it's important to invest in lighting poles that can prove to be a viable product for sustainability. Additionally, when you invest in our products, you're getting the highest quality craftsmanship for your desired infrastructure without the outrageous prices.
Contact us today to learn more about our wide range of lighting and highway signs we offer, and to speak to one of our skilled and experienced professionals.