Jun 01, 2021 - Optimizing Parking Lot Lights During the Summer | Durable Lighting Poles Across Canada
Whether you are a property manager or are running a facility that has hundreds of employees, it's essential to invest in reliable lighting poles to optomize your parking lots. We offer outdoor lighting solutions that are crafted by superior craftsmanship, innovative technology and 35 years of experience!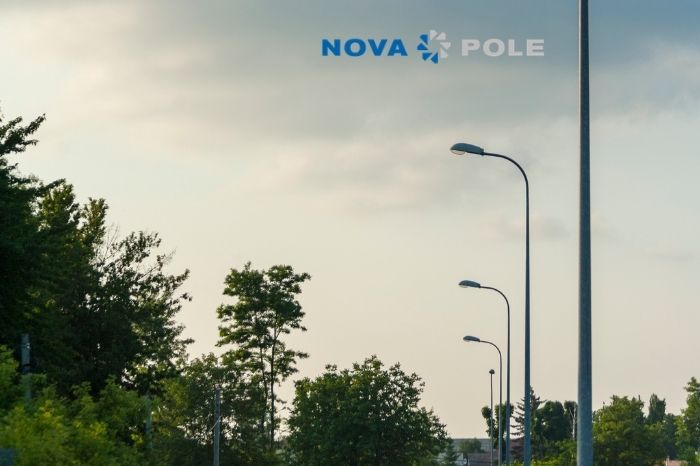 Each parking lot has a different layout and taking into account any areas that need light can be a vital component of increasing pedestrian safety. At Nova Pole, we manufacture strong lighting infrastructures, including floodlight poles and steel poles that can withstand the Canadian weather conditions and enhance premise safety.
As we are headed towards the summer months, the days are getting longer and the daylight is with us for most of the hours. However, you want to ensure that your property's parking lot is safe at every hour of the day to prevent any theft and accidents. We can guide you on the factors to consider when choosing the right light poles, the benefits of implementing brighter solutions, and why you should depend on us for all your commercial and residential lighting needs.
How to choose the right lighting pole for your commercial premise
There is no one right way to choose the right lighting pole. Parking lots and premises come in various shapes and sizes, so it is important to determine the size, location and other elements before deciding on installing your lighting solutions. We can advise you on some aspects that will make your decision easier, and you can feel confident in choosing the right lighting poles for the job.
When purchasing commercial lighting poles for your premise parking lot, there are several elements to consider to maximize their value:
The design

The lighting quality

The energy efficiency
When choosing the right lighting infrastructures, it's important to consider the layout of your parking lot; a 1500 square foot parking lot will require less lighting than a parking lot measuring 10,000 square feet. Here are some lighting poles that we distribute that can appropriately fit the size of your premise's parking lot:
Lighting poles are distributed horizontally to give maximum lighting capacity in large parking lots.

A circular light pole distribution that is suitable for commercial parking lots.

Square light distribution suited for larger commercial parking lots and any additional roads that may intersect the area.

Horizontal lighting systems suited for smaller parking lots.
What is the average height of a parking lot lighting pole?
The installation height of the average parking lot pole varies between 13 and 20 feet, while in some larger commercial parking lots, they can reach up to 36 feet. The spacing of the poles is based on the installation height, therefore the higher the infrastructures, the fewer the poles that need to be installed.
What are some factors to consider when choosing parking lot lighting poles?
Environmental elements such as gardens or trees can cause shadows the poles will not be able to reach.

The colour temperature. Smaller parking lots will require metal halides and high-pressure sodium systems, while commercial parking lots with benefit from LED bulbs that can illuminate the space brighter at a longer distance.

The appropriate contrast of the light. While you want your parking lot to be evenly illuminated, you also don't want to blind the pedestrians and employees while they are trying to drive. Investing in our uniformly illuminated lighting poles can prevent any harsh light that can impact an individual's eyesight without compromising their safety.
Install reliable lighting pole infrastructures for your parking lot - any size, any time!
For maximized safety and an efficient parking lot lighting design, lighting poles are essential. Sufficient lighting provides comfortable travel throughout the parking lot, provides consistent lighting in heavy traffic areas and causes little to no light pollution.
Contact us today to speak to one of our experienced representatives, and choose the best lighting solutions for your parking lot today!