Dec 02, 2021 - Installing Lighting Poles In Your Parking Lot: How to Choose Strong Systems For Winter
If you manage a large parking lot space during the winter, you will often be bombarded with cars driving through heavy snow and ice. If a car isn't parked properly, it can create spacing issues with other vehicles. Additionally, if a driver can't see where they're going, they could injure a pedestrian walking in the parking lot. That's why it's imperative you have strong lighting systems in places and steel poles to reinforce it. As one of Canada's exceptional signpost manufacturers, we have sufficient steel lighting poles that we can help install in your parking lot for the winter.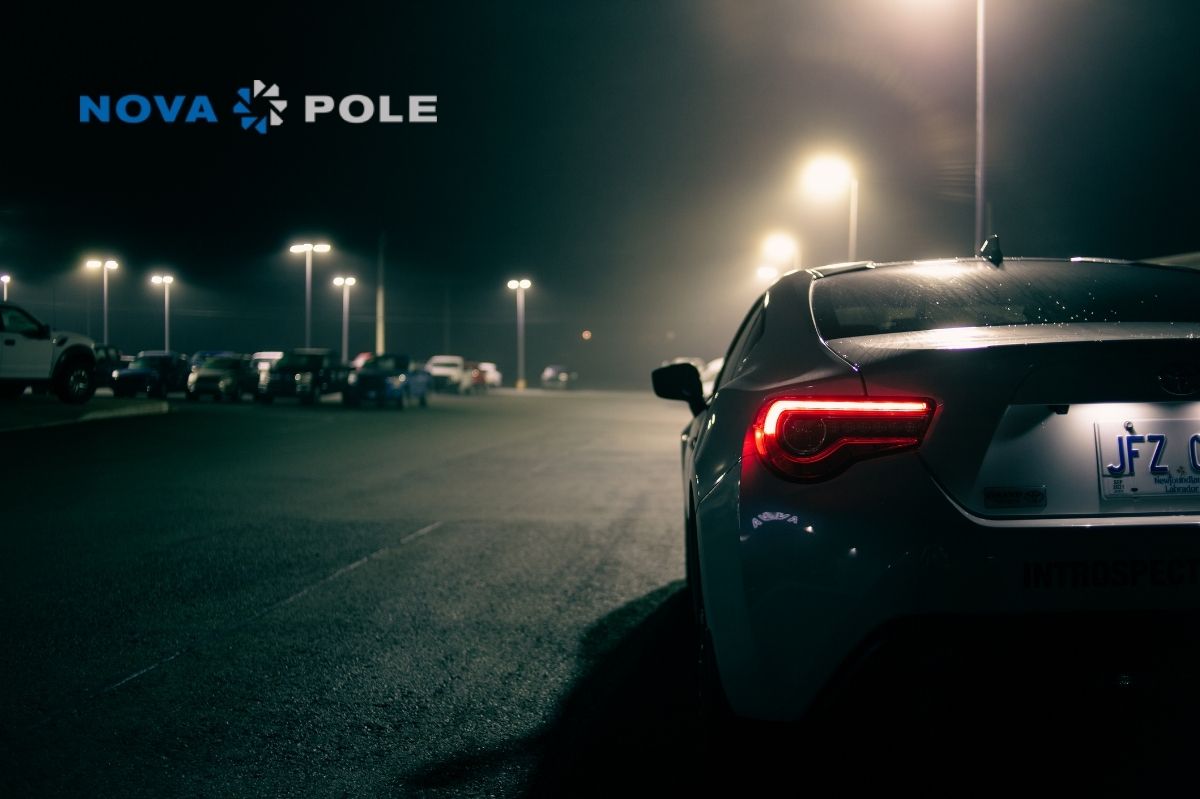 At Nova Pole, we'll help you with measurements to install these fixtures and enhance your parking lot's lighting with ease. We'll explain why having an illuminated parking lot is good for pedestrian safety and why you should choose steel poles over concrete ones and detail how our team at Nova Pole can provide you with the most effective lighting poles to use and install.
Street lighting poles are important infrastructural mainstays in our communities. As a trusted supplier of electric street light poles and well-known around Canada as a high-quality hinged light pole manufacturer, we offer products delivered under the highest standard of manufacturing excellence.
Why Does An Illuminated Parking Lot Increase Pedestrian Safety?
The appropriate quality and placement of lighting poles can enhance the surrounding environment, boosting pedestrian comfort and safety. Outdoor lighting can serve many purposes, but the biggest is the ability for pedestrians and drivers to see themselves at night. You avoid numerous safety hazards from happening in your parking lot and contribute an overall positive perception of security to the public.
For outdoor parking lots, it's often recommended you have lighting poles with a minimum illuminance of 2 lux on the lot's surface. This ensures small tripping hazards and incoming vehicles are clearly visible to pedestrians. In addition, the lighting can help people feel safer if they're walking in the parking lot alone. They'll be able to see anything that comes their way and won't be blindsided.
Lighting poles in the parking lot can enhance the overall ambiance of an area while increasing visibility for nighttime pedestrian activity - this is especially true for steel lighting poles which are built to be more durable and long-lasting than their concrete counterpart.
Why Should You Choose Steel Poles Over Concrete Infrastructures?
The main advantages of installing steel lighting poles are their low cost and long lifespan in the parking lot. They allow great flexibility with the electrical circuits and the steel itself is made to be strong and durable under any condition. Nova Pole steel light poles are galvanized and protected with a special coating to prevent that from happening, leading to less maintenance down the road and low costs associated with running a parking lot.
Although concrete poles are just as durable to use, they can be extremely difficult to install and transport in a parking lot. It becomes much harder to set them all up if you're looking to add multiple concrete lighting poles as well. Concrete poles also cost much more to install than steel ones and can't be recycled for future use.
A final feature that steel lighting poles have over concrete poles is that they're more stylish to use and display in public. This might sound counterintuitive when most people don't look at them in the parking lot, but anything you can do to present a clean image is a plus. At Nova Pole, we want to help you achieve such goals and have excellent lighting for your parking lot.
How Can Nova Pole Provide The Best Lighting Poles?
We're an experienced and reputable manufacturer of tubular steel lighting poles, sign structures, and electrical utilities among others. Our methods of providing the best lighting poles for your parking lot take into account the cost-effectiveness and high-quality volumes of commercial infrastructure poles. We specialize in fast deliveries and installation, as well as products designed by our top engineers.
We've helped many businesses and landowners install sufficient lighting poles to their large parking lots. As a result, their spaces are safer for both drivers and pedestrians and potential hazards are kept to a minimum. More people are assured of their safety and will continue to use your parking lot if you have our steel lighting poles in place.
Upgrade your parking lot lights now by investing in our infrastructure products today!