Aug 03, 2022 - Key Features Of Durable Signposts | Trust Our Outdoor Light Posts Manufacturers For The Job!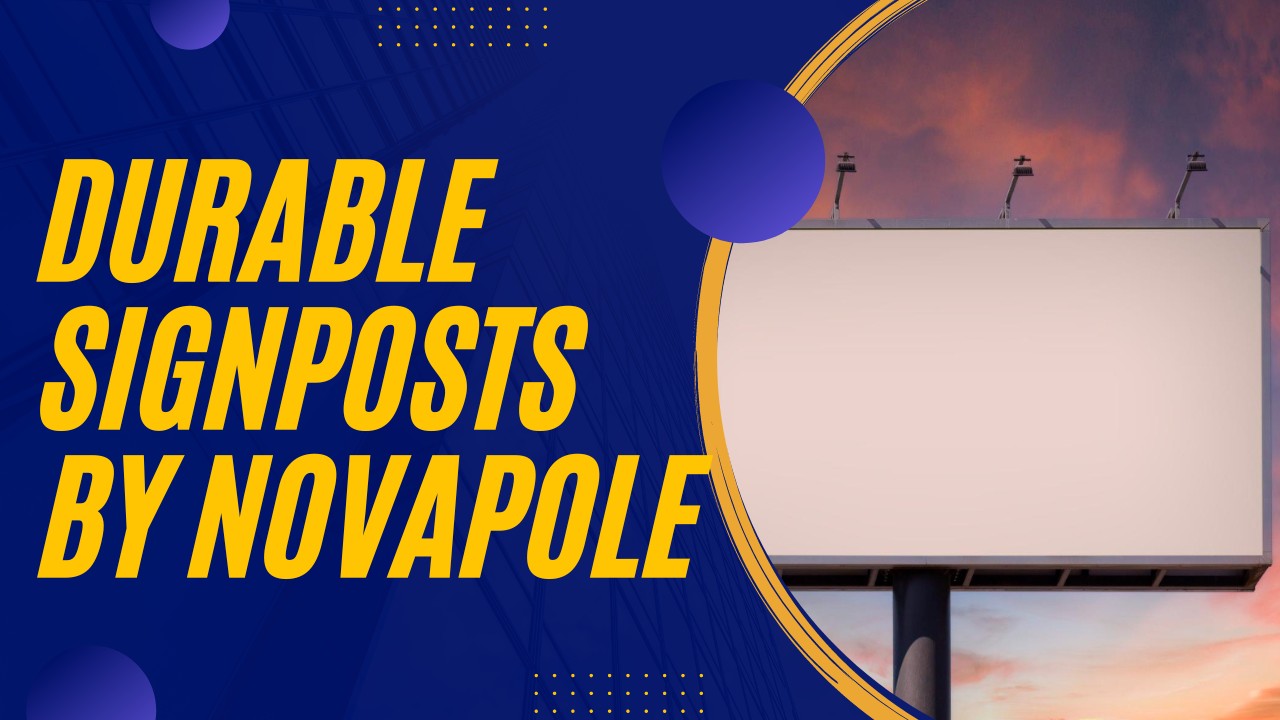 Signposts and structures are important assets to have for any public roads or frequently used infrastructure. They're a reliable tool for drivers to refer to while driving on the road, keeping them and nearby pedestrians safe. Signpost manufacturers will very often construct these signs out of durable steel material that can withstand any harsh weather conditions in different environments. Without these signs or the reliable light fixtures that keep them illuminated, road danger will only increase.
At Nova Pole, we're the best overhead signpost and outdoor post light manufacturers that many project managers can count on for durable products. We're a reputable producer of tubular steel infrastructure poles that have cost-effective prices and are made out of high-quality tubular steel. Contact our Nova Pole team today to inquire about our pricing plans and explore our inventory of exceptional signposts and lighting poles.
Durable signposts can enhance pedestrian safety and ensure drivers stay on the road. Here are ways in which signposts can benefit the public and why Nova Pole is the best company to manufacture and deliver them for your next construction project.
What Are The Best Features Of A Durable Outdoor Signpost?
Public signposts can have many beneficial features, but they're most known for their durability and ability to stand straight and tall for many years. Whereas the worst signs can bend, warp, and corrode over time, Nova Pole's signposts are custom-made with the right finishes to endure any weather condition.
Some signposts have a unique rigid shape that is engineered to withstand long-term exposure to the elements and a good amount of impact from car crashes. This makes the signposts very reliable for public infrastructure planners looking for strong roadside resources.
Another feature is the signpost's material, which is usually galvanized steel. It is extremely robust and specialized manufacturing processes can protect it from chipping and rusting. The signs must also be able to stay strong and sturdy and avoid becoming loose or capable of falling down. It's often secured by backing plates, impact-resistant nuts, wing brackets, and corner bolts during the manufacturing process.
The bases for the signposts and surface finishes are especially crucial in supporting its overall strength and integrity.
Why Are Bases And Finishes Critical To A Commercial Signpost?
There are two types of sign bases you can use: permanent and portable. Both of these need to be strong enough to allow for easy and long-lasting public displays that can endure any type of impact. When the base is installed, it can keep the signpost at a fixed position on areas with concrete. If the sign itself is damaged, it can easily be replaced quickly. Portable sign bases, on the other hand, can be moved around if needed and are solid, stable fixtures.
Additionally, surface finishes such as VinylGuard or PVC will not rust, fade, splinter, or crack under any pressure. It's noted for its extreme durability which provides years of protection for any infrastructure sign. Special sign finishing coating is cost-effective, heavy-duty, and durable. It's also fade-resistant with an eco-friendly composition that contains no harmful chemicals. A good finish on a signpost is quick and easy to be applied, leaving behind a shiny, newly painted image that is virtually maintenance-free.
The base of a signpost thoroughly supports its ability to stand and endure tough conditions. The finishing coat leaves it spotless and clear for everyone to see. Our team at Nova Pole takes these features into consideration whenever we start manufacturing new signposts.
Why Is Nova Pole The Best Choice For All Your Signpost Manufacturing?
Our Nova Pole team specializes in producing and delivering high-quality signposts and steel-engineered poles. We utilize durable steel material that can last for a long time and help you save money long-term. Our signposts and sign infrastructures will stand tall through heavy rain or snow in any environment to help drivers and pedestrians stay safe on the road.
Our Nova Pole tubular steel signposts can also reliably support any light fixtures installed nearby. Made out of very strong material, the signposts can withstand strong impacts from accidents or unfavourable weather conditions at any time.
Contact Nova Pole today if you need strong public signposts for your next commercial construction project. Work with our team now to receive durable steel infrastructures for your area now!