Nov 30, 2022 - Brighten Your Important Public Spaces! How To Utilize Light Poles for Municipal & Public Illumination
Public spaces and big illumination projects often require a multitude of planning and efficient lighting poles to be installed. How much illumination is needed and what types of lighting poles are used depends on the cost of materials, how far apart each lighting pole is spaced out, and the best areas for installation. After factoring in these conditions, you can use industry-grade tubular steel lighting poles to illuminate and enhance the visual aesthetics of any municipal or public space.
At Nova Pole, we're a trusted street lighting pole manufacturer and sign structure supplier that have previously worked with many industrial and commercial clients. We manufacture and supply strong tubular steel poles used for a variety of public functions such as street signage, telecommunications systems, electric utility transmissions, and more.
Lighting poles can be a great benefit for public illumination projects to increase safety in areas with foot traffic, especially during the nights. Here is what you will have to consider when installing these lighting fixtures in a municipal or public space.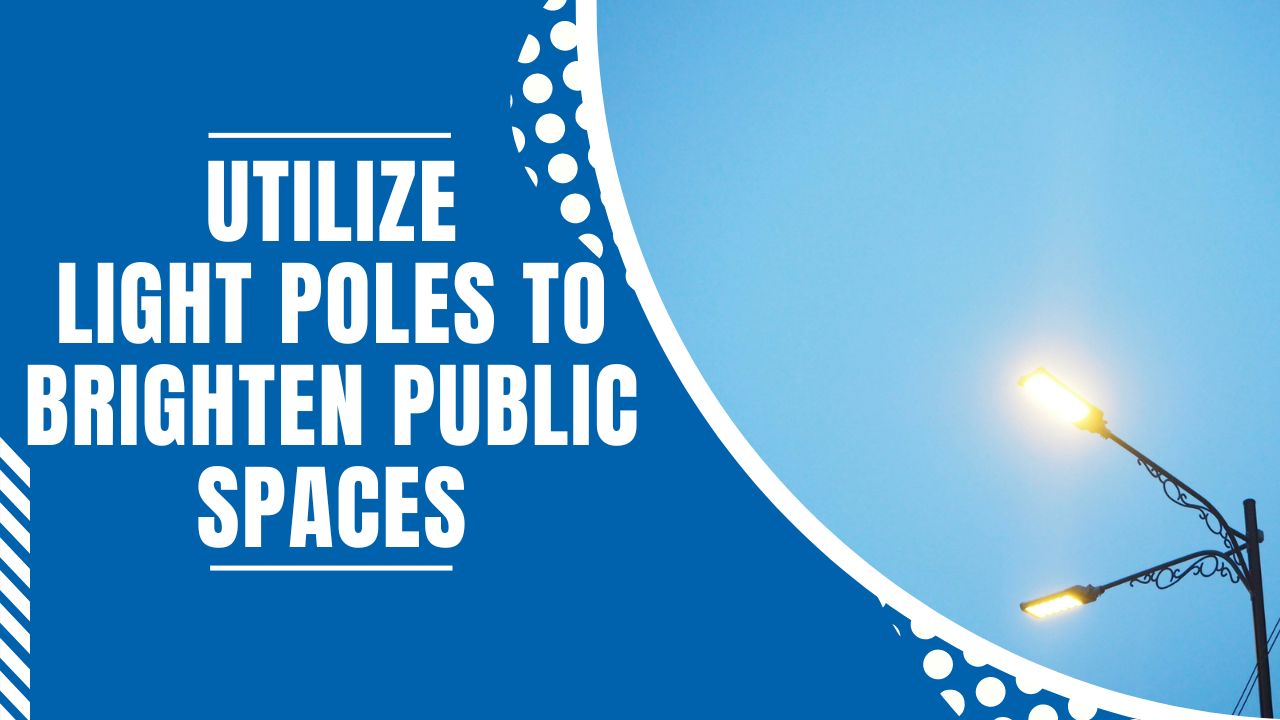 What Type Of Lighting Pole Do I Need For Public Spaces?
There are several factors that can determine what type of lighting pole will work best in a public or municipal area. If you're a project manager, you have a wide selection of lighting poles with different functions such as the standard street light poles, decorative poles, architectural poles, and parking light poles. The installation of each lighting pole depends on what visual aesthetic you want to match, the number of lighting poles you want to install, and which functionality you want to prioritize.
Decorative street lighting poles combine style and functionality that often includes a commercial-grade, round aluminum light pole, decorative base cover, and LED fixture. These poles can be customized to match your visual preferences for the area.
Architectural lighting poles offer a more robust visual aesthetic that is subtle in the background. They often include a 4 inch round straight aluminum light pole, an architectural LED area light, tenon, and hardware.
Parking lot lighting poles are essentially used in spaces that have many cars parked. Having these installed greatly increases the visibility and safety of an area. These poles often consist of an LED fixture, bracket, base cover, pole cap, and handhole cover.
The constructed material of a street lighting pole should also be considered. They are often made out of fiberglass, steel, and aluminum materials. Aluminum is more commonly used because it's resistant to corrosion and is more sturdy against heavy winds. Meanwhile, steel is stronger, heavier, and stiffer than aluminum, but is more suitable to use in heavy-duty street lighting pole installations. Fiberglass is a combination of steel and aluminum that provides strength, durability, and corrosive-resistant effects in a lighting pole.
Overall, you will have many options to determine which street lighting pole is best suited for your public space.
How Tall Should My Light Poles Measure?
Street lighting poles for public or municipal spaces should have accurate and correct height measurements. This helps provide the appropriate amount of lighting density in an area. In most cases, street pole heights can range from 9 to 14 feet in some areas and 20-70 feet in others. The height of a lighting pole depends on the size of the area and the amount of illumination needed. Street lighting poles should ideally provide sufficient light without giving off an excessive glare.
For example, in a small park or street, medium-sized lighting poles can work best in that space because they can brighten just enough spots for people to see. On the other hand, an important municipal building or sports venues need high lighting poles to illuminate as much space as possible. You should consider the size of space that needs to be lit since it may impact the height of the poles and their lighting efficiency.
Generally, the height of a street lighting pole can impact how far lights are dispersed. These poles need to not only be the correct size to brighten up dark spaces, but they should laso have sufficient light source output. In turn, this will give uniform coverage of an area and cut down on unneeded glare.
How Can I Get Lighting Poles For My Public Illumination Project?
To get lighting poles for your next big public illumination project, we recommend contacting an experienced street and area lighting pole manufacturer to get the highest quality products you need. You will be able to specify any customizations for the lighting poles to function well in a proposed area.
Contact Nova Pole today and order your street lighting poles by calling 1-866-874-8889. Work with our team now to take advantage of the many productive benefits of a well-illuminated street lighting pole. Start enhancing the visual aesthetic and safety of a municipal or public space by installing our excellent steel lighting poles!